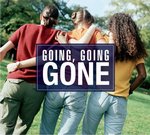 Going, Going Gone.
Order now before they are just a memory. .
Reserve your yearbook now online
Reserve a copy of the Rosemary Clarke Middle School yearbook for your student.
A limted amount of yearbooks are still up for grabs. Just under 100 are left, and decreasing daily. Order now for $50.00 before they're just another memory.
Purchase online. Click Here!
Or bring $50.00 cash or money order to Mr. A. Veloz in Mod. 3. Check into the front office first.