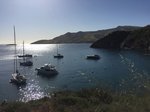 3rd Annual Catalina Island Marine Institute
Reserve your spot now for the 2018/2019 School Year.
Please see link for further information of attached flyer.
We are planning our 3rd Annual Catalina Island Marine Institute Field, also known as CIMI, trip for next year, April of 2019. We are looking for 7th and 8th grades students.
The CIMI program focuses on marine biology and island ecology. Activities include snorkeling, kayaking, and hiking. Marine lab programs include the shark, ray, and invertebrate touch tanks, plus algae, plankton, fish and terrestrial labs among others. Evening labs include astronomy hike, marine mammals, and squid dissection to name a few.
This is a 6 day trip out to Cherry Cove on Catalina Island, located just off of Long Beach, CA.
The cost today is $850, which may change slightly based on unforeseen cost increases. This cost covers everything except for souvenirs and extra snacks.
You can make your first payment this April or May of $100 to lock in and solidify your spot on the trip for next year.
For more information, please check the RCMS website.
https://docs.google.com/document/d/15IYb-TisdgiqEXEkDUl1NZHkO-pMRg38744Rg4icGdA/edit?usp=sharing