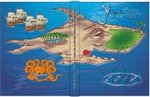 Purchase today before we sell out!!!
Reserve early.
This is you last chance to purchase your 2018/2019 RCMS Yearbook. Price is still $45.00 and will remain so for the rest of the year due to successful fundraisers. Please send or bring in $45.00 cash or money order. Parent can purchase at the front office. Student can purchase from Mr. A. Veloz in Mod 3. There are a limited number of yearbooks left even with extras purchased. Once we sell out, we are out.
Ask your student for a reciept upon returning home the same day. If you have questions, please email aveloz@nyeschools.org.